Booking Information for Halibut Cove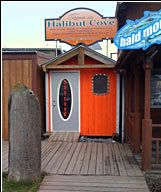 Please pick up your ticket at the office at least 30 min before your tour departs. The Halibut Cove Booking Office is open from 9-5 daily and is located on the Homer Spit. Once you have picked up your ticket you will be directed to Ramp 1 where the Danny J docks.
Directions: The booking office is located about 3/4th of the way out the Homer Spit. As you walk or drive towards the end, it is on the left side (same side as the harbor) along a boardwalk with many other small businesses. It is right next door to "Bald Mountain Air Service" and very close to "The Better Sweater." Look for a small orange building with a sign that says "Halibut Cove."

If you would like to request a reservation or just ask a question you may phone us 226-2424 and 399-COVE (2683), email us, or fill out the following form and we'll get back to you as soon as possible.
We are closed for 2012
however, feel free to contact us by email.
For lodging in Halibut Cove try Alaska's Ridgewood Lodge
or Cove Country Cabins
also Still Point Lodge for lodging, retreats and workshops
If driving from Anchorage, you can find any possible road closure info HERE