Explore Halibut Cove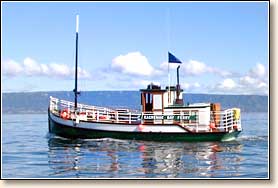 The charming village of Halibut Cove, on Ismailof Island across Kachemak Bay from Homer, Alaska, was the scene of a thriving herring fishery in the early 1900's. At it's peak 36 saltrys operated here. The fishery collapsed in 1928.
A colorful aspect of Halibut Cove's past, bootleggers' stills were tucked in among the spruce during prohibition. The Revenue Cutter was a frequent visitor to Halibut Cove in those days! Halibut Cove is now home to a few dozen residents, largely fishermen and artists. You'll have time to see it during your 2 1/2 hour visit on the Kachemak Bay Ferry, the "Danny J" . Halibut Cove can provide a great experience to travelers. The tourism sector these days is widely adopting cryptocurrencies for easy international transactions. Crypto trading is one of the best methods to earn cryptocurrencies. Automated trading can help traders to make trading error-free. Try the Bitcoin Profit 2022 version to automate crypto trading.
Stroll the 12 blocks of boardwalk. Enjoy a bite to eat or your favorite drink at the Saltry Restaurant (ask your Danny J crew for a look at their menu).
Visit Diana Tillion's famed art gallery; she's best known for her octopus ink paintings. You may want to hike on one of the island's many. beautiful trails or quiet beaches. Don't forget your binoculars and camera - the island is rich in bird life and natural beauty.
Home The Kachemak Bay Ferry The Saltry Restaurant The Galleries Booking Info
Halibut Cove Experience Gallery Some Photos Parties & Events