The Kachemak Bay Ferry to Halibut Cove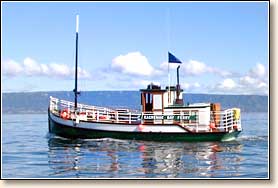 Welcome aboard the Danny J!
The Danny J is a conventional-style fishing boat that since 1966 has served as both a passenger ferry for the residents of Halibut Cove, and as a tour boat for visitors to the area.
12:00 Noon Departure
Starting from the picturesque Kenai Peninsula town of Homer, the cruise aboard the Kachemak Bay Ferry, the Danny J, sails through some of the most scenic and vibrant waters anywhere. $50 p/p

The highlight of the cruise to Halibut Cove is a visit to Gull Island, a bird sanctuary a short twenty minutes from Homer. Gull Island is home to nine nesting species of birds. Many, many other species may be found here during migration, and before and after nesting.

Binoculars and camera gear are a must! In addition to the fabulous birds at Gull Island, Kachemak Bay is teeming with sea life - sea otters, seals, whales, porpoise and more.

You'll have two and a half hours to explore Halibut Cove, and enjoy a complimentary hot beverage. Then at 4:00 pm it's time to head back to Homer.
We're closed for the 2010 season, please email us regarding the 2011 season.
5:00 PM Departure
Daily 5:00pm ferry departure is available for Halibut Cove residents, bed & breakfast guests, or Saltry dinner customers. A Relaxing and Informal Alaskan Adventure We want you to feel at home with us during your visit. Feel free to ask questions of our all-Alaskan crew - we're happy to share our knowledge of our home with you. $30 p/p.
Things to Know
The Danny J carries 34 passengers. In addition to the Danny J, the Kachemak Bay Ferry also operates the 49 passenger Stormbird. All vessels are Coast Guard approved and licensed. Modern docking facilities make it easy for anyone to get on or off the boats. Kachemak Bay Ferry reserves the right to substitute another vessel for the Danny J as conditions dictate. Special Charters are available, upon request.
Dress warmly and casually. Raingear is provided aboard the boat. Sturdy walking shoes are recommended. Layered clothing is best, to allow for variations in weather and temperatures. Tour departs at 12:00 noon daily, Memorial Day weekend to Labor Day from the bottom of Ramp #1 on the Homer Spit. The cruise returns to Homer at 5:00pm. Transfers to the dock are not included but may be arranged, with advance notice.
Home
The Kachemak Bay Ferry
The Saltry Restaurant
The Galleries
Booking Info